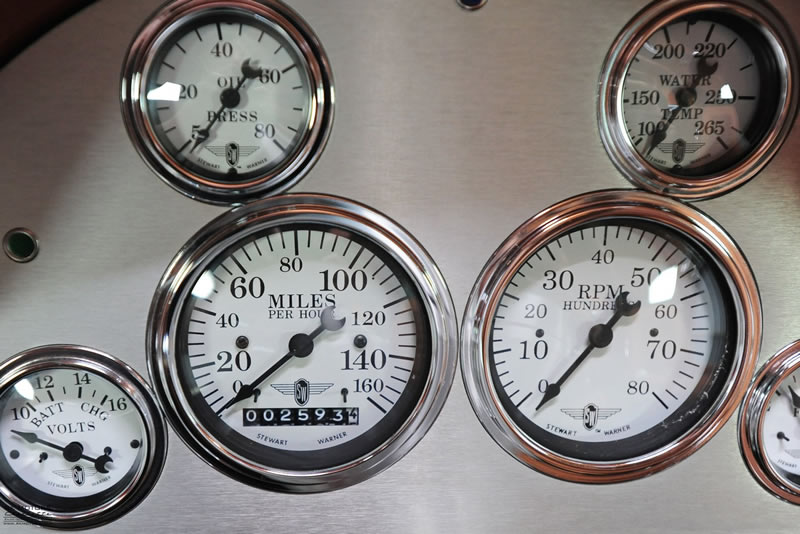 1955 Ford Crown Victoria
---
Ever see a custom so wild it's subtle? A car where there are so many changes that the average guy at a car show doesn't even know what's stock and what's not? How about a car that's seen time (and collected trophies at) the Grand National Roadster Show, the Blackie Gejeian Fresno Autorama, Carlisle All-Ford Nationals and over a dozen more. Trophies were earned by impressing people like Boyd Coddington, George Barris and John Force, to name a couple. This Mandarin Orange ultra custom '55 Crown Victoria is one of the best customs on the planet and it carries the show history to prove it.
Body modifications were handled by Bernt Karlsson, owner of Customs by Bernt, who should be familiar to you as Boyd Coddington's painter on the show American Hotrod. Outstanding workmanship is evident everywhere from top to bottom – that's a given. What's unusual is the sheer amount of customization done to the body. The grille and front bumper are from a '59 Thunderbird, a '41 Lincoln donated its pushbutton door openers, the taillights are from a '55 Mercury, a '55 Mercury station wagon supplied its front lights and a set of '57 mercury station wagon fender skirts were bolted on. Cadillac wheel covers provide a nice subtle stock-yet-custom touch. This is truly a car that can be appreciated by rank novices while blowing away the hard core old school crowd!
After the shell was finished, Nosse Brothers took over for the reassembly and customization of the small details. They installed a full set of custom fitted Solex tinted glass, painstakingly built up the Art Morrison chassis before marrying it to the body and handled all aspects of the car from headliner to fuel lines.
1967 Thunderbird landau seats are done in the same soft, aromatic two tan leather as the rest of the cockpit. Those are custom door panels and a custom rear seat as well, and all was done by the Nosses. VDO classic series instruments are set in a customized '56 Ford dash, the steering column is by Ididit and holds a billet Budnik steering wheel and the billet pedals are another Nosse creation. This is a custom interior that veritably screams class, refinement and comfort. The same carpet and leather treatment follows into the trunk, as well - this is an exceptionally well tied together car.
Art Morrison built the custom 3"s by 4"s boxed frame and tubular A arm front suspension. Aldan Eagle coil overs at all four corners with a Morrison spindle set and Wilwood 11" discs and a Flaming river rack up front. A Morrison four link set hangs a Hoopers Ford 9" with 3.50 gears, Moser 36 spline axles and another pair of Wilwood 11" rear disc brakes. Stainless fasteners are everywhere, braided hoses carry all fluids and the top loader 4-speed and Cannon Engineering driveshaft are as detailed as the rest of the car. The floors are as perfect as the topside, making a perfect backdrop to the custom 2.5" ceramic coated exhaust. This is one show car that's as drivable as it is perfect!
The big daddy 560hp Ford Racing 460 cubic inch motor looks right at home in the smoothed engine compartment. D-460 aluminum SCJ heads top the motor, getting their fill from a Blue Thunder dual quad manifold and a pair of Holley 600's. The massive stock roller cam times the valves just right and sets the auditory tone for your journeys. Doug's Headers dump into the aforementioned exhaust system while a Modine radiator takes care of excessive heat. The smoothed firewall was part of the work done at Bernt's while the placement of the vacuum reservoir and ignition systems in the fender recesses is all Nosse.
Built over a four year period at a cost of more than $250,000, this car is the fulfillment of a childhood dream. When you've got the right people and the right plan trophies just about get mailed to your door. It was Boyd Coddington's personal pick at his eponymous cruise, best of show at John Force's holiday cruise, finished second at the GNRS in mild custom, took the Outstanding Elegance award in Fresno, best custom at Carlisle and Meguiars sponsored the car in 2005. Of course, that list neglects smaller shows that it's gone to, but suffice to say it never lost. Bob McClurg himself wrote the car up in a six page spread in Super Rod, too - this is a well known, well respected custom of the highest caliber!
There are several "bests" depending on your view of cars. If you're a Ford fan, a custom fan or a 50s fan this car just has to make you smile. With its show winning history, award winning builders, mountain of trophies and dynamite looks this is just the custom car centerpiece you've been looking for to add to your collection!